07.04.2022
New user interface in short deadlines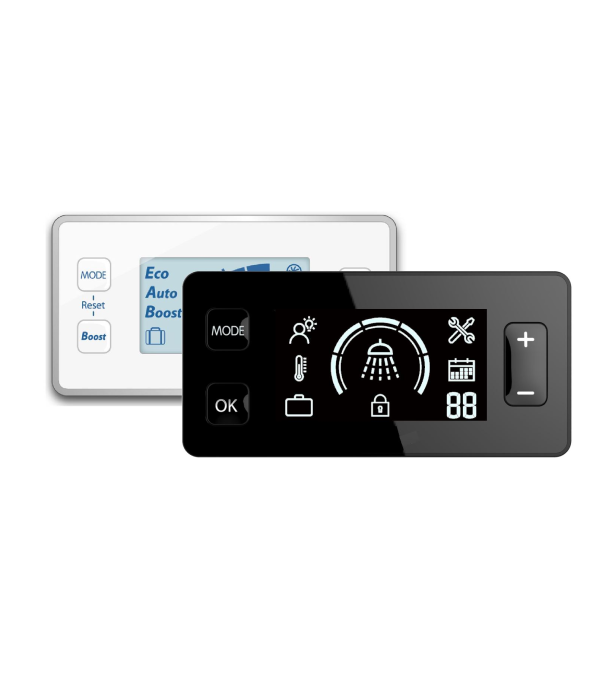 Like many equipment manufacturers, the identity of the product through its design and its use are important criteria that we associate with the brand.  When producing a product under the same brand, it is important to have consistency across your product lines. It is also essential to have the flexibility to easily change the identity of a product to address different distribution networks such as a manufacturer, a professional network or a DIY network.  Even if it is always possible to change everything, it involves important investments, risks and delays that are difficult to control.
How to minimize risks, costs and delays?
COTHERM invests in ready-to-use platforms that are designed, tested and certified for use in pre-identified applications and markets. They comply with the standards and performance requirements of these markets and can be quickly integrated into a new product or an upgrade of an existing product. This approach considerably reduces economic, technical and quality risks.
Get flexibility?
A predefined platform can be inflexible and COTHERM has solved this problem by integrating a multitude of options on its platforms and opens the possibility of customizing many of them. This translates into either parameterization or the realization of specific components that, by themselves, can change the overall perception of the product after integration into an equipment.
The best example: the user interface
The user interface creates the identity of a product and, by its adaptation, can help to give the impression of a very broad offer while keeping the engine identical to all products.
We are often confronted with this problem and we create our user interfaces with a view to offering greater flexibility in customization:
Adaptable mechanical front-end in color or customized lexans
Customizable features allowing the addition of functions
Adaptation of displays with personalized pictograms, reflecting the identity of a brand
Example of customization
For a client wishing to distinguish and distribute its products via another brand, we created a new display, taking the basis of a Cotherm display platform.  We were able to reuse the intrinsic functions of the platform but we redesigned the graphic elements and functions associated with the button for an interface perfectly adapted to the new brand.

Key figures :
Delay: 6 weeks for 1 sample from validated graphic definition and an extra 8 weeks for mass production launch.
Risk: Zero-bug – reuse of a validated platform with custom parameters
Our range
Here are the ranges selected for this use case
Use cases
Get inspired by our use cases
Use-cases